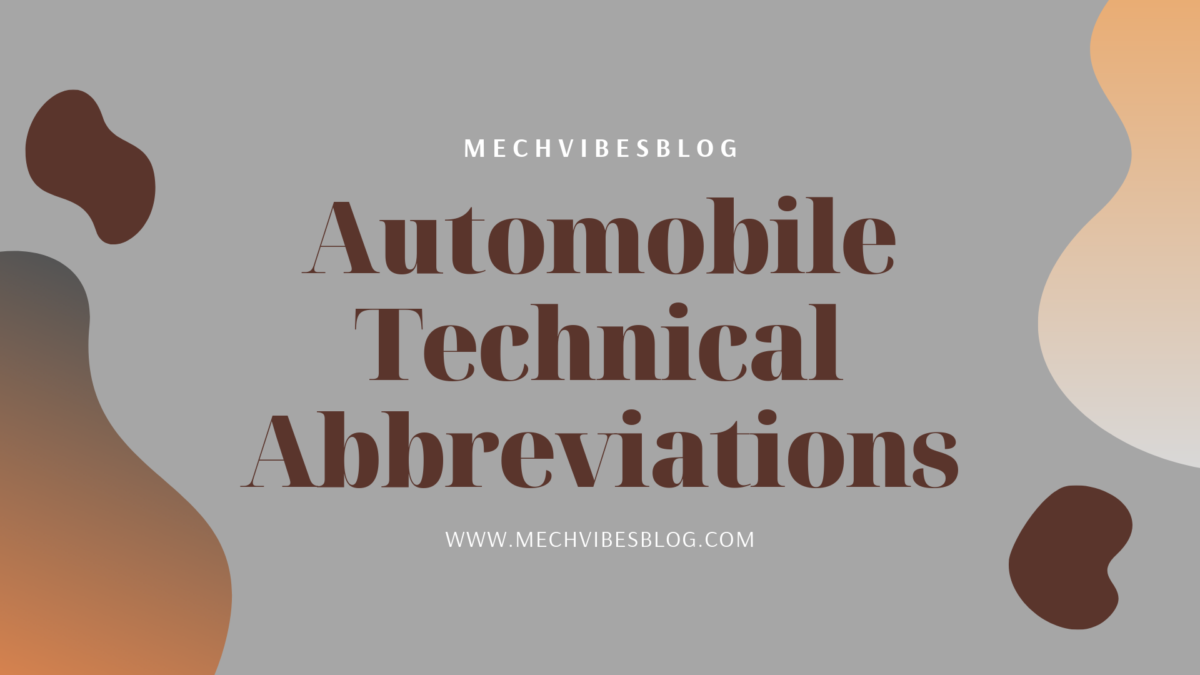 Automobile Technical Abbreviations
Hello, welcome to mechvibesblog, today we will talk more about automobile technical abbreviations.
We came up with Top Automobile Technical Abbreviations for you.
Beside, Join the list to gain access to our exclusive freebies library here and also our recent content published.
Technical Abbreviations
ABS — Anti-lock Braking System
ABDC — After Bottom Dead Center
A/C — Air Condition
ACC — Adaptive Cruise Control
ACL — Automatic Chassis Lubrication
ACT — Air Charge Temperature
A/F — Air/fuel ratio
ARCS — Active Roll Control System
ASD — Automatic Slip-control Differential
ATC — Automatic Temperature Control
ATDC — After Top Dead Center
ATF — Automatic Transmission Fluid
AWD — All-Wheel Drive
AWS — All Wheel Steering
Essentials tools to keep in your car
BBDC — Before Bottom Dead Center
BCM — Body Control Module
BDC — Bottom Dead Center
BHP — Brake Horsepower
BMEP — Brake Mean Effective Pressure
BOFT — Bearing Oil Film Thickness
BSFC — Brake Specific Fuel Consumption
BSM — Blind Spot Monitoring
BTDC — Before Top Dead Centre
Related
CAD — Computer Aided Design
CAFE — Corporate Average Fuel Economy
CAG — Computer Aided Gearshift
CAI — Cold Air Intake
C/B — Contact Breaker
CD — Capacity Discharge
CFC — Chlorofluorocarbon
CI — Compression Ignition
CO — Carbon monoxide
CO2 — Carbon dioxide
CR — Compression Ratio
CV — Constant Velocity
CVT — Continuously Variable Transmission
Related
DERV — Diesel Engine Road Vehicles
DFI — Direct Fuel Injection
DI — Direct Injection
DIS — Direct Ignition System
DOHC — Double Overhead Camshaft
DOT — Department Of Transportation
Related
ECM — Electronic Control Module
ECS — Electronically Controlled Suspension
ECT — Engine Coolant Temperature
ECS — Electronic Control System
ECU — Electronic Control Unit
EGR — Exhaust Gas Re-circulation
EPA– Environmental Protection Agency
EPS — Electronic Power Steering
ESP — Electronic Stability Control
EV — Electronic Vehicle
EVC — Exhaust Valve Closed
EVO — Exhaust Valve Open
Related
How To Diagnose Black Exhaust Smoke
FWD — Front Wheel Drive
GCW — Gross Combination Rate
GPS — Global Positioning System
GTW — Gross Train Rate
GV — Governor Valve
GVW — Gross Vehicle Weight
GWP — Green House Warning Potential
Related
Three Reasons Why your Car's Brake Squeaks
HC — Hydrocarbons
HFC — Hydrofluocarbons
HP — Horsepower
HVAC — Heating, Ventilation and Air Condition
IC — Instrument Cluster
IFS — Independent Front Suspension
IHP — Indicated Horsepower
IRS — Independent Rear Suspension
IVO — Inlet Valve Open
Related
Top 5 Reasons You Need Winter Tires
KERS — Kinetic Energy Recovery System
LCD — Liquid Crystal Display
LDWS — Lane Departure Warning System
LED — Light Emitting Diode
LGV — Large Goods Vehicle
LI — Load Index
LSD — Limited Slip Differential
MAF — Mass Air Flow
MAP — Manifold Absolute Pressure
MOFT — Minimum Oil Film Thickness
MPGe — Miles Per Gallon equivalent
NHTSA — National Highway Traffic Safety Administration
Related
Maintenance Required Light On Toyota
Ox — Nitrogen Oxides
OBD — On-Board Diagnostics
OD — Over Drive
OHC — Overhead Camshaft
OHV — Overhead Valves
ON — Octane Number
Related
PCV — Positive Crankcase Ventilation
PFI — Port Fuel Injection
PS — Power Steering
PSV — Public Service Vehicle
PTO — Power Take-off
PVC — Polyvinyl Chloride
ROC — Research Octane Number
RTV — Room Temperature Vulcanizing
RWD — Rear Wheel Drive
Related
Rolls Royce Oil Maintenance Light Reset
Glossary of Terms Used In Spray Painting
SCA — Supplemental Coolant Additives
SCS — Stop Control System
SFC — Specific Fuel Consumption
SFI — Sequential Fuel Injection
SH-AWD — Super-Handling All-Wheel-Drive
SI — Spark Ignition
SOHC — Single Overhead Camshaft
SUV — Sport Utility Vehicle
SV — Side Valves
Related
AFS (Adaptive Front-Lightning System)
TBI — Throttle Body Injection
TCM — Transmission Control Module
TCS — Transmission Controlled Spark
TDC — Top Dead Centre
TDI — Turbocharged Direct Injection
TPMS — Tire Pressure Module Sensor
TPS — Throttle Position Sensor
TV — Throttle Valve
TVS — Thermal Vacuum Switch
TWC — Three-way Catalyst
TXV — Thermostatic Expansion Valve
Related
Top 10 Things to Check When Buying a Used Car
UJ — Universal Joint
VCU — Viscous Coupling Unit
VDC — Vehicle Dynamics Control
VI — Viscosity Index
VTEC — Variable Valve Timing and lift Electronic Control
VVT — Variable Valve Timing
WOT — Wide Open Throttle
Related
Why You Should Use Fully Synthetic Oil
Conclusion
I believe the above listed will really help know the technical abbreviations use in automobile.
Leave Me Your feedback and comments. All questions are welcome, and no question is stupid.
Best describe your problem the way you can, and we will reach a conclusion and come up with a solution.