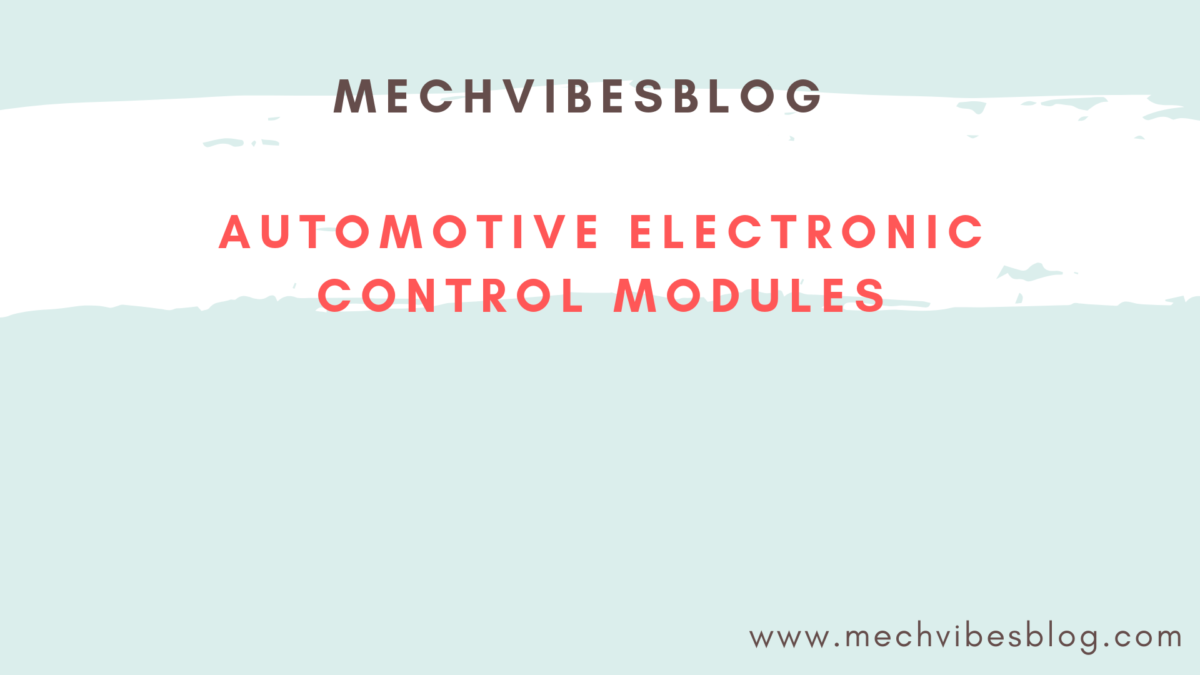 Automotive Electronic Control Modules
Automotive Electronic Control Modules
Automotive Electronic Control Module is an embedded system which control systems and sub-systems in the vehicle.
Automobile manufactures control components in vehicles mechanically until the introduction of Electronics in Automotive Industry.
Modern cars components is controlled with electronic control modules to perform specific task in the vehicle.
The introduction of Electronic Control Units have help to control components in vehicles with ease and perform quick diagnostics.
It receives input from sensors in the vehicle and controls different electronic functions.
Furthermore, is the brain of the vehicle and communicate with other components to give desired results.
Electronic Control Units are made of micro-chip processors,Read Access Memory(RAM) and Read Only Memory(ROM)
Also, with input and output interface. They can be upgraded and replace if damage.
"Engine Control Unit and transmission control unit (TCU) are combined into a single unit called the Powertrain Control Module".
You can join our list to gain access to my exclusive freebies library and also our recent content published .
Types of Electronic Modules
Body Control Module(BCM)
Transmission Control Module(TCU)
Passenger Door Module(PDM)
Suspension Control Module(SCM)
Airbag Control Module(ACM)
Battery Management System(BMS)
Sunroof Module(SFM)
Rain Sensor Module(RSM)
Heated Seat Module(HSM)
Sentry Key Immobilizer Module(SKIM)
Related
What is AdBlue and Why is it Essential for Diesel Cars?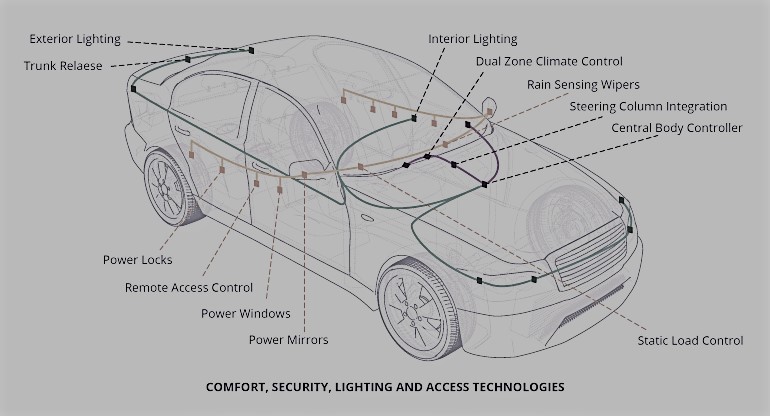 1. Body Control Module
It's main function is to control load drivers by actuating relays that in turn perform actions.
It monitors switches and sensors in the vehicle.
It make use of the vehicle's bus system(CAN,LIN,Ethernet) to send and receive signals.
Besides, Body Control Module is attach to the junction box which manages the flow of power to prevent future damage when multiple function is carried out.
Also, it generates fault codes for problem diagnoses.
It also supports interior and exterior lighting,wiper control,seat control,power locks and power windows.
2. Transmission Control Module(TCM)
TCM communicates with other modules in the vehicle to produce desired results.
It works with the automatic transmission to improve shift quality.
It have improve driving performance and fuel economy to be at optimal level.
Also, TCM works with sensors such as the wheel speed sensor,throttle position sensor,Traction Control Module,brake light switch and cruise control.
3. Passenger Door Module(PDM)
It controls standard loads from door lock motors and other electronic features.
Features such as power windows, power locks power mirrors and few LED's lighting.
PDM is located at the door panel.
Related
P0507- Idle Air Control(RPM Higher Than Expected)
4. Suspension Control Module(SCM)
This module controls the suspension of a vehicle.
Suspension Control Module independently adjusts the tension for each wheel for a smoother ride.
5. Airbag Control Module
Airbag Module helps promotes safety during collisions.
Also, is responsible for receiving information from the collision sensor.
When there is a crash, information is relayed to the airbag sensors and the airbag is brought to an effective action during impact.
Besides, it controls supplement restraint components.
Vehicles without airbag can result in dangerous damage during collision.
6. Battery Management System(BMS)
Battery Management System (BMS) is an electronic system that monitors the state of the battery from performing outside it range.
Besides, it monitors temperature, state of charge and health and voltage supply.
Check out this Battery Tester , Is good for battery diagnosis, quick results and good for beginners.
[Full Disclosure: I'm a compensated affiliate and doesn't come with any extra charge if product is purchased.]
7. Sunroof Module
This is located at the top roof of the vehicle. Sunroof helps to allow more fresh air into the vehicle.
Furthermore, Sunroof modules control the open and close of the sunroof and it functions.
8. Rain Sensor Module(RSM)
The Rain Sensor Module detects moisture on the windscreen.
The RSM triggers the wiper blade to automatically wipe away the moisture on the windscreen.
This communicate with the BCM to perform action.
9. Heated Seat Module(HSM)
Heated Seat Module controls the heated seat functions.
The HSM offers dual-zone or four-zone heating.
It also performs cooling and ventilation functions for the seats and supports applications housed in the rear seats.
Related
How To Diagnose Black Exhaust Smoke
10. Sentry Key Immobilizer Module(SKIM)
It contains a Radio Frequency (RF) transceiver and a central processing unit.
The Sentry Key Immobilizer Switch programming also enables the SKIM
This communicate over the Programmable Communication Interface (PCI) bus network with the Powertrain Control Module (PCM).
Besides,is located under the steering column.
View Point
Finally, Give Me Your Feedback, leave your suggestion and comments. All questions are welcome, and no question is stupid.
Describe your problem the best you can, and sooner or later we will reach a conclusion and come up with a solution. (Automotive Electronic Control Modules )