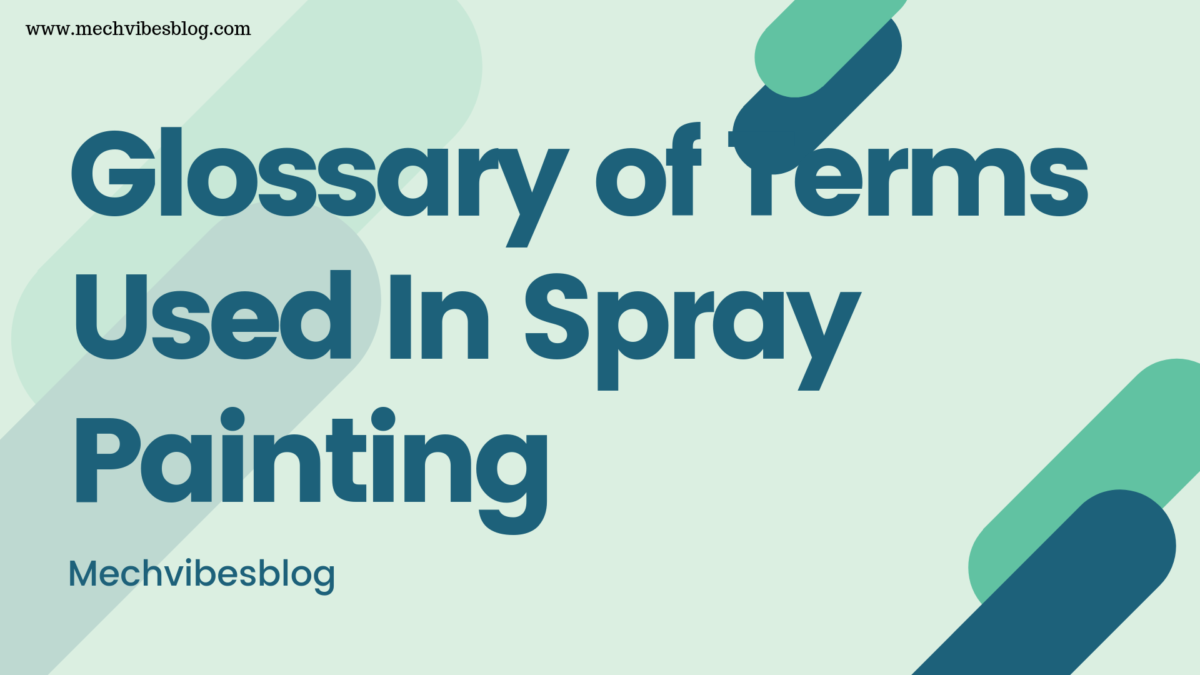 Glossary of Terms Used In Spray Painting
Spray paint is a great way to get a job done quick and convenient. Also, its a way to add a touch of color to your project — Glossary of Terms Used In Spray Painting. There are number of items around your home's and workplace which is been spray with fresh coat of paint.
Most hardened gearheads and paint crew's often throw spray terms and jargon faster and wherever they find themselves.
But not everyone out there are gearheads and car guys. So in order catch up with the wind, I have make this very convenient glossary of terms used in spray painting.
Using spray paint may seem like a straightforward process, but needs a focus mind to achieve good results. Here are some terms use in spray painting.
Glossary of Spray Paint Terms
By the end of this content, you will be familiar with most of the terms use in spray painting.
AIR DELIVERY — Actual volume of compressed air delivered by the compressor after taking into consideration for losses due to friction and measured in liters per second.
AIR DUSTER — A device or tool use for drying a surface quickly(painting). Its fitted to an air line, useful for blowing water from recess.
AIR PRESSURE — Air pressure is measure in bars or pounds per square inch (psi). It's the pressure of air which is mechanically compressed.
AIR RECEIVER — A reservoir or storage tank that contains compressed air.
ATOMIZATION — The breaking down of paint or other materials into fine particles. Good atomization is essential in spray painting.
BODY — The outer panels that obscures the electrical and mechanical workings of a vehicle.
CENTER of GRAVITY — A hypothetical point at which all of the mass of an object acts as if it were concentrate.
COLLISION INSURANCE — Vehicle insurance that cover damage caused by a collision with another vehicle or object.
Related
DOUBLE-HEADER COATING — Is simply two coats of paint, where second coat of paint is spray immediately after the first one with no flash time.
DRY COATING — Thin coat of paint is applied fairly and at a rate when sprayed 'dry'. Also, this is done by increase of the ratio of atomizing air to paint at the spray head of the gun.
DOWN PAYMENT — Cash payment credit against the price of total estimate, which reduce the amount to be finance or when task is complete.
ENTRY LIGHTING — A system of lights that aids a painter or any individual entering the spray booth in the dark.
FEATHER EDGING — The rubbing down of a damaged area of paintwork until there is no perceptible edge between the point and the substrate.
FEATHERING THE GUN — To reduce the pressure on the spray gun trigger whilst spraying. This reduces the volume of spray paint coming out of the tip.
FLASH OFF — This is to allow more volatile solvents in a sprayed coat to evaporate before the next application of another coat.
FLUID CUP — This a container attached to the spray gun with a fluid hose connected to it.
FLUID NOZZLE — The orifice in the fluid tip.
GROUND COATS — Is the paint coat found between the primary and finishing coat.
GUIDE COAT — A thin coating applied over a surface, where it's been rub down.
How to top up car's engine oil
HOLD-OUT — The degree of impervious dried paint film. Some filter coating tends to be porous and they begin to absorb the binder finishing coats. This reduces the effectiveness of a glossy finish.
HEIGHT — The distance between the tallest part of a vehicle and level ground.
INTERIOR LIGHTING — The use of halogen lamps or light-emitting diodes (LED's) to illuminate a vehicles interior space.
INVOICE PRICE — The total cost that can be found on the invoice that the painter sends to the customer when the customer submit his/her vehicle to the workshop.
MATT FINISH — A surface finish which has no glossy effect.
SHRINKAGE — Shrinkage is cause as a result of solvent evaporation. Is when paint decreases in size both vertically and horizontally.
SINKAGE — This is when the finishing gloss material get impair due to excess paint apply over a particular porous surface which sink into it.
SPARE — Additional wheel and tire that is store in a vehicle for use when one of the four tires have issue.
TACKING OFF — Wiping the surface off with a special cloth to remove dust. Its is apply before the finishing coats.
UNDER-BODY — The area of a vehicle that is typically not visible from above and expose to the road.
VACUUM LINE — A Flexible tubing used to carry air, fluids, or pressurized gas.
VISCOSITY — The degree of resistance to at which a liquid flows.
WHEEL COVER — A design metal or plastic disc that secures a vehicles steel wheels, nuts/lug nuts from view.
Conclusion
Leave Me Your comments and views. Describe your view the best you can. –Glossary of Terms Used In Spray Painting