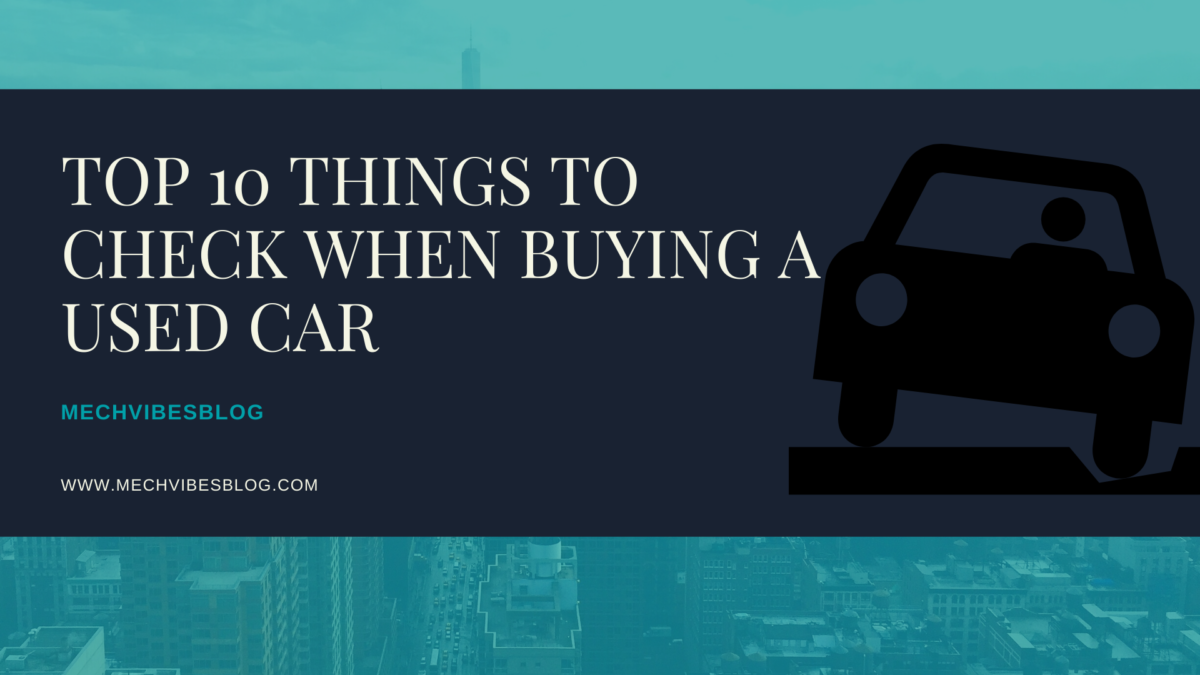 Top 10 Things to Check When Buying a Used Car
Top 10 Things to Check When Buying a Used Car- A pre-owned car can be defined as a vehicle which have been used by a different person or retail owner. Buying a car already used by someone has its own risk.
Most people loose their money when they buy used cars. They mostly encounter continuous minor faults which leads to one another.
Since I don't want you to fall a victim or waste your money on dead cars which will later give you minor problems which leads to unexpected bills and severe headaches, I have put together top 10 things you can check when buying a used car and after this post you will be out of the victim game.
In my recent post we get to know 10 things to check on your vehicle every morning and why. You can join the list to gain access to our exclusive freebies.
Here is an overview of what we will be covering in this post:
Mileage covered
Engine Inspection
Interior design
Exterior Accessories
Malfunction Indicator Light(MIL)
Good charging system
Test drive
VIN number
Maintenance report
Vehicles documents
Before we proceed, you have to bare in mind, all extra cost will be your burden if inspection is not fully carried out successfully.
Make sure you are fully convinced and ready to buy the vehicle.
Also, tell the buyer to give you some time after vehicle is purchased, so incase of any emergency you can return vehicle as soon as possible.
Let's set the ball rolling.
1. Mileage Covered
Mileage is the total distance covered by the vehicle in a given period of time. Is been measured by an odometer. This really lets you know how long the vehicle have been driven.
You are advised to always check for the total mileage on a used vehicle when about to purchase. Most cars have been driven for a longer period of time, and will surely give you minor problems when purchased.
2. Engine Inspection
Performing engine inspection can help you detect potential problems before they occur which leads to major expenses. At this point, much attention is required.
Few things you can check on your car include drive belt, corrosion, broken parts, oil filler cap, fluids(leaking), oil, oil level(engine and transmission), dipstick, engine sound, vibrations and engine mounts.
 [Full Disclosure: I'm a compensated affiliate and doesn't come with any extra charge if product is purchased.]
P0300- Random Misfire Detected
3. Interior Design
Another factor to notice, the interior design condition of the car. Once is been used by a different owner, other parts of the interior may look bad, this include the seats, dashboard, stuck door switches, floor mats, odometer lights, fuel gauge, smart key and broken vents.
These are few things you can check so you won't throw your earned money away, just to realize switches and other interior components don't function.
This may lead to high maintenance bills and huge money spent in buying a dead vehicle.
4. Exterior Accessories
Exterior accessories are the outer part of the vehicle and you also necessary to check for these things when buying a used car. They include lights(both headlight and tail light), underneath of vehicle, doors, bonnet, sunroof, trunk, paint color and alarm.
Checking on these things mentioned above will boost your confidence and courage to buy the vehicle because you aren't wasting your earned income.
5. Malfunction Indicator Light(MIL)
This is also known as Check Engine Light(CEL). Is found on the instrument panel and an engine management system with indicates a malfunction.
Try start the vehicle to check if there are no check engine light on the dashboard, if check engine light is found, kindly request for a quick diagnose to know the exact health of the vehicle before any further decision. I recommend this obd scanner for all your quick diagnostics. [Full Disclosure: I'm a compensated affiliate and doesn't come with any extra charge if product is purchased.]
6. Good Charging System
To check for this, quickly run the engine and try to remove one terminal on the battery. The vehicle is likely to be in two state now, is either the vehicle will suddenly shut off or engine will keep running.
This is done to check if vehicle's charging system is working accurately. You can also check for a good battery as well if you have the battery tester tool.
10 Things to Check on Your Vehicle every Morning-and why?
7. Test Drive
Test drive is accessing the drivability condition and general operating state of the vehicle. This will give you a clear mind if vehicle is in a good state.
Besides, few things to check when going on a test drive include the horn, brakes, full acceleration, engine sound, shocks, gears and wipers.
8. VIN Number
VIN number is use to identify a specific automobile based on a code. This code is found on the windscreen, vehicle papers, side of the driver's door, frame and most times around engine compartment.
VIN number helps to track reports and information of the vehicle. For a safe transaction, kindly check for the vehicle's VIN number.
9. Maintenance Report
You must make sure that the vehicle is roadworthy and safe. Ask the buyer to show you current maintenance report of the vehicle.
Besides, if you are are okay with the report, you can go ahead to close agreement with the buyer. This will help you to know the previous issues on the vehicle.
Rolls Royce Oil Maintenance Light Reset
10. Vehicle Documents
In order to ensure quality and safety there are a few required documents every vehicle must have. You have to request for the vehicle documents to prove ownership.
Beware of fraudulent dealers, they provide fake documents on vehicle. Kindly pay attention when accessing documents for a safer transaction.
Conclusion
From the above points, you should try and put them into practice. Am sure you are good to go now with this top 10 points explained, don't be a victim, take action with these tips when buying a used car.
We would love to hear from you. Subscribe to our newsletter for our latest post and promotions.