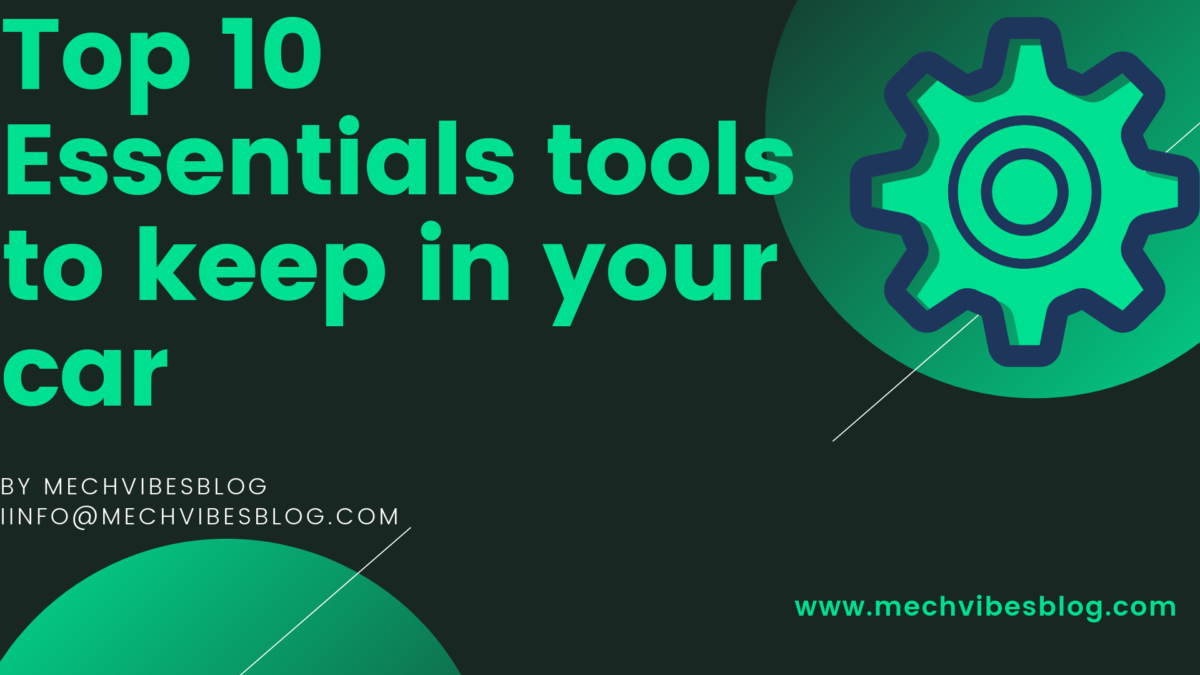 Top 10 Essentials tools to keep in your car
Top 10 Essentials tools to keep in your car – Are you embarking on a trip, an occasion, driving to that festival, travelling along with the family or just a personal ride, it's always a good plan to keep few tools along with you.
These tools can be kept in your vehicle's trunk, where it can be there forever. We reached asked several experts, including a Los Angeles car crash attorney at Ehline Law Firm for some answers to staying safe. 
Since we don't want you to find our self wanting when you encounter minor breakdown or locked out of our car, we are advised to keep few tools in our car.
You may already have essentials such as vehicle's proof of insurance and owner's manual in your car, but what else should you have on hand.
In this view, we will get to know top 10 essentials tools to keep in our vehicle always with an additional bonus essential tools.
Also, keeping these tools in your car can save you much time, help you get through unforeseen events, minor cost and much stress.
Top 10 essential tools to keep in your car;
Spare Tire
Tool Kit
First Aid Kit
Car Jack
Jumper Cables
Tire Inflator / Air Compressor
Flashlight
Life Escape Tool
Fire Extinguisher
Warning
Safety Triangle
Let's set the ball rolling by taking each one with further explanation.
1. Tool #1- Spare Tire
A spare tire is your number one essential tool to keep in your vehicle.
A spare tire helps you to get going, whenever you run out of air in your tires or encounter issue with one of your vehicle wheels.
Your spare tire is suppose to be inspected and make sure its inflated to its desired psi and does not have any leaks.
Further, protect your spare tires with tire cover case protector. Exposure can be very damaging to your tire – causing cracks in the sidewall, weakening the rubber and making it less structurally sound.
2. Tool #2 – Tool Kit
Get yourself a toolkit which it can be kept in the truck of your vehicle always.
This tool kit can help you fix minor issues on your vehicle by yourself. Also, in case of any emergency, it can help you make few twist by yourself.
These tool kit can include multiple metric socket sizes, screwdrivers, adjustable pliers, tire wrench, Open wrench set and more.
3. Tool #3 – First Aid Kit
The third essential tool you can keep in your car is the first aid kit.
The first aid kit can help patch a cut digit and also help save a life. A small first aid kit can cost less than $20 and will include majority of what you will need in an accident or emergency.
In your search for a good first aid kit check out your local auto stores. Besides,you can create your own first-aid kit for around $20.
4. Tool #4 – Car Jack
Car Jack is use for raising the wheel when changing or swapping your vehicle tire. Its also use for lifting vehicles when performing maintenance.
Keeping a jack in your vehicle can save you from much stress.
Whenever you want to use the jack, make sure you locate the desired position for jacking vehicles.
Use jack stand to hold your vehicle up and make sure the vehicle is securely resting on the jack stand.
5. Tool #5 – Jumper Cables
The fifth essential tool to keep in your vehicle always is the jumper cable.
The jumper cable is use to re-charge a dead battery or to start a vehicle which hardly start due to low voltage in battery.
Make sure you connect the clamps to the right terminals on the battery when jumping starting a car. Besides this help prevent your vehicle from catching fire.
You can get a good jumper cable from your local auto parts store at a cool rate.
Related
How to Check your Car's Engine Oil
6. Tool #6 – Tire Inflator/ Air Compressor
Tire inflator helps when you run out of air in your vehicle's tire. This will help you get the tire inflated back so you can embark on your journey.
7. Tool #7 – Flashlight
Flashlight is the 7th essential tool you can keep in your vehicle.
The flashlight can be use to locate objects that are hardly to see, especially in dark places.
Always make it a point to keep your flashlight in your vehicle for safety reasons.
8. Tool #8 – Life Escape Tool
Life escape tool is a device which use to break windows and glass incase of any emergency. It's also known as car window breakers
Car escape tool is a product designed for emergency situations and its essential during unfortunate event of being trapped inside a vehicle.
Generally, this tool serves two functions; breaking a side window and cutting a seat belt.
They are affordable and normally compact and can be stored in your glove box, center console or closer to your foot rest on the driver side.
Be prepared for the unexpected – keep a Life Hammer in your car at all times. The Life Hammer is best design for an affordable price.
9. Tool #9 – Fire Extinguisher
Fire extinguisher is a portable device that discharges, used to extinguish small fires or reduce their continuous burn. They are mainly of water, foam, gas, and other material to extinguish a fire.
Fire extinguishers are design to tackle specific types of fire. There are different classes and several different types of fire extinguishers, make sure you go in for the right one.
Besides, ask further questions when purchasing, to be able to know what you exactly want.
10. Tool #10 – Safety Triangle
Safety triangles also known as warning triangles. A far better solution is a set of safety triangles.
They are infinitely reusable and present no hazard to you or the surroundings.
Further, safety triangles take up little or no space in the trunk of your car.
[Full Disclosure: I'm a compensated affiliate and doesn't come with any extra charge if product is purchased.]
Related
Three Reasons Why your Car's Brake Squeaks
Other bonus essentials tools to keep in your car
Safety Chains– Safety chains helps ensure safe towing, they are an essential piece for making sure your car is properly connected to the tow vehicle.
Map– There may be bad signal coverage when travelling to remote areas.
Business cards – Don't run out business cards in your vehicle. It's always easier to run to the car for a backup supply.
Umbrella – Do not get caught in a sudden downpour with no protection outside your car.
Tire Chains – This helps with traction when rubber just won't cut it, especially if you live in an area with heavy snow or ice.
Tire Traction Mat – This mat helps you to get out of any mud situation. They also works best in icy conditions to keep your car secure.
Jugs – Store a case of water bottles or a few jugs in your trunk. You can use the water to fill your radiator if your car overheats. Also for buying fuel.
Blanket – Get a blanket to keep in your vehicle in case of icy weather conditions. These are mainly use planning on a winter getaway.
Duck Tape – It help bond on rough and uneven surfaces with a strong bite. They are mainly 100% waterproof with a double-thick adhesive, strong re-inforced backing and rugged all-weather shell.
Polishing Towels – These can be use for car and windows cleaning. They comes with plush Microfiber polyester Fibers. It saves you time when cleaning your cars.
Conclusion
I believe the above listed will really help to stay out of any emergency whenever you find yourself wanting or any critical issue where your vehicle have accidentally break down.
Further, You can also check out top 10 things to check on your vehicle every morning and why? Leave Me Your feedback and comments. All questions are welcome.
Best describe your problem the way you can and we will reach a conclusion and come up with a solution.
-Top 10 Essentials tools to keep in your car